Miguel Marries Longtime Girlfriend Nazanin Mandi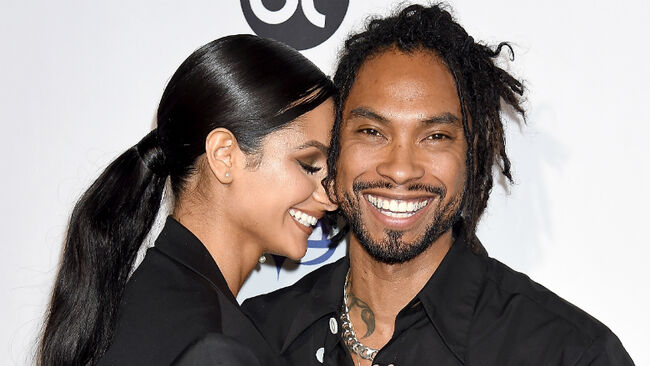 Miguel and Nazanin "Naz" Mandi have finally said: "I do!"
The couple, who have been together since high school, tied the knot in front of their closest family and friends at Hummingbird Nest Ranch in California on Saturday (November 24), just after the Thanksgiving holiday.
The newlyweds gushed about their intimate nuptials, which they announced on Instagram, on Tuesday (November 27). "11.24.18. Pimentel life moments! New levels and unforgettable memories shared with our closest friends and family. So much love and gratitude for everyone that made our special day truly unforgettable. We love you all," Miguel captioned a series of photos of him and bride on their wedding day.
Naz also spoke out about on their magical day on Instagram, captioning a series of photos from their traditional outdoor ceremony: "11-24-18 Meet Mr. & Mrs. Pimentel🌹✨What a truly magical day filled w/ so much love, light & positivity. The second Miguel & my Father got emotional THAT WAS IT😭No holding back the tears. To those who came out to celebrate w/ us we are forever grateful & hope you left w/ a full drunk happy heart & memories to last a lifetime! Yes, this was a long time coming but timing is everything & we will continue to do things our way always & forever."
The model and "Sky Walker" singer got engaged in 2016 while vacationing in the Dominican Republic. The two recently reminisced on their engagement in a Vogue article that followed their wedding journey. "The engagement in D.R.—it was an adventure," Naz told the fashion magazine. "For sure, it was an adventure. Long story short, we were there for a week—right? Probably, the fifth day there I drank the water, and I got really sick."
"This was early!" Miguel interjected. "She just passed out; the sun is starting to come up. She's completely knocked out... drool coming down her face. I was like, 'Aw, poor thing.'"
"I think you're being dramatic," the model said with a laugh.
"So, you know, I kind of slide out stealthily," the Grammy-award winning artist explained. "Grab the ring, get her hand, and delicately slide it on and then get back in bed until she wakes up. It takes her a minute to notice it and then she notices it."
"I turned over and was like, 'Oh my God, I did not expect this at all!'"
Congratulations to the happy couple!
Photo: Getty Images