Will Smith Gets Emotional Discussing Restored Relationship With Son Trey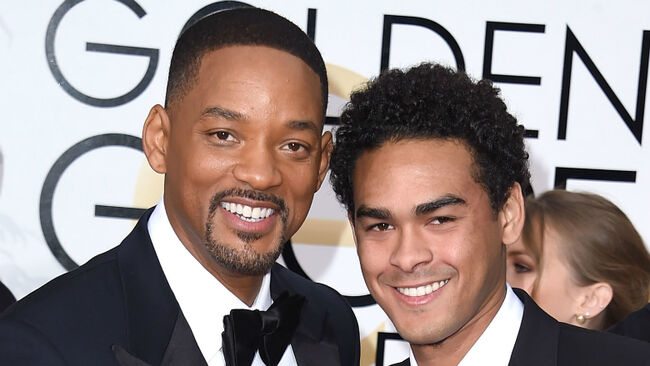 Will Smith has a lot to be thankful for, especially his relationship with his oldest son Trey Smith.
In a video shared to his Instagram on Tuesday (November 27), the 50-year-old actor celebrated his close bond with Trey, who he shares with his ex-wife Sheree Zampino, after revealing they once had a difficult relationship. "It has not always been like this between Trey & I," Will wrote in the video's caption, which showed the father and son smiling while vacationing together. "We STRUGGLED FOR YEARS after my Divorce from his Mother. He felt betrayed & abandoned. It is a Wild Blessing to recover & restore a Loving Relationship with My Beautiful Son!"
Then in the video, Will detailed a beautiful moment he shared with his oldest child while in Abu Dhabi. "So I'm in Abu Dhabi at the F1. I brought my son Trey. We been hanging and usually I take my kids separately on stuff just so they have their individual daddy time," Will explained while wearing a bathrobe in his Abu Dhabi hotel room. "So we been doing this, me and him hanging out at the F1. And he just hit me with, 'You know what dad? I just realized you're not just my dad.' He paused and he said, 'I'm pretty sure you're my best friend.'" The Aladdin actor then reenacted how he got emotional, but tried to act nonchalant after Trey's heartwarming confession, and simply replied: "'Whoo. Yeah, man. Probably. Probably.'"
Will married Sheree back in 1992. However, the two got divorced in 1995. While Will has been open about how he and his ex-wife initially struggled to become a blended family after he wed his current wife, Jada Pinkett Smith in 1997, he's on more than a few occasions discussed how strong of a relationship he and Sheree now have as co-parents.
Just last week the Bright actor wished Sheree a happy birthday on Instagram. "Happy Bday, @shereezampino.#BestBabyMamaEver! :-) I Love You, Ree-Ree." he wrote.
Sheree later replied, praising both Will and Jada. "Awwwwwwwww...thank you baby daddy!!!!!! I love you back! And thank you @treysmith0011 for being the reason we came together. And to @jadapinkettsmith for being an understanding, secure, and absolutely AMAZING wife, mother, Bonus-mom, and Co-parenting partner!" she wrote.